Hiking in the wild flowers (14 days)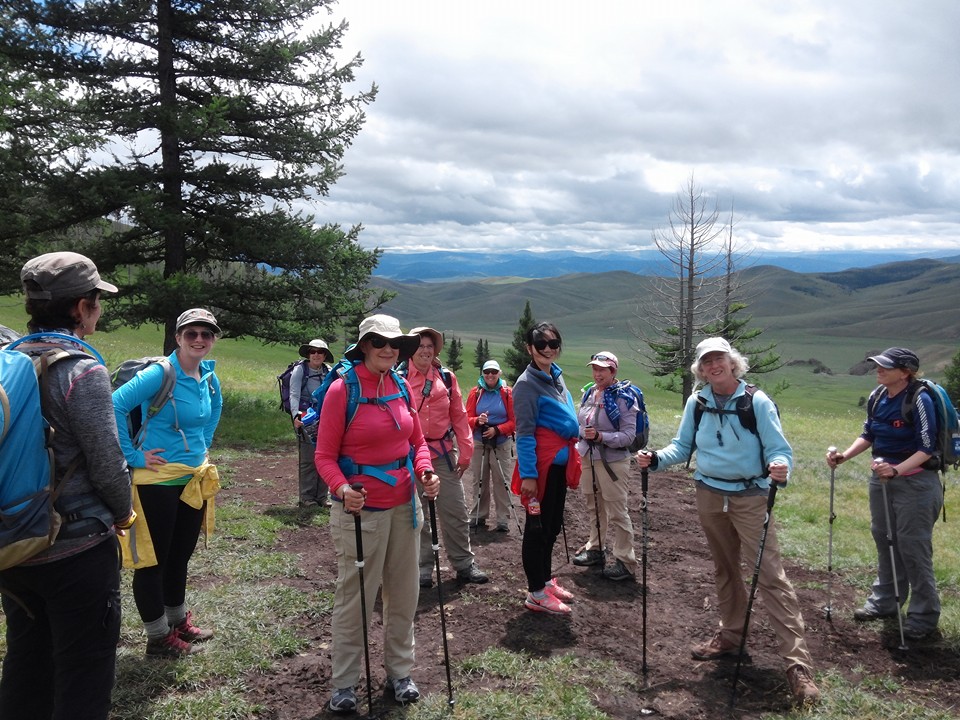 Duration: 12 days/11 nights
Tour grade: Easy
Covering distance:
Group size: 2-20
---
Places tio visit: Mongol Els - Kharkhorin - Tsenkher Hot Spring - Orkhon Waterfall - Eight lakes area - Ogii lake - Khustai National Park
Highlights: Nomadic family visit, Sand dunes, Camel riding, Horse riding, Hiking in the fresh air, Famous Eight lakes area, Monasteries of Mongolia, Orkhon valley, Orkhon waterfall, Hot spring, National park of wild horses, Ogii lake, Bird watching
---
ITINENARY:
Day 1. A day with Mongolian Nomadic Family
Our adventure to wilderness begins soon after leaving the city by enjoying virgin nature of the countryside with large amount of herd on green grass. An hour drive towards south west of UB brings you to the mountain valley where the nomads live. Our Mongolians will welcome you with our unique traditional hospitality. There we will start exploring Mongolian nomadic culture while living like Mongolians with real nomads. In the afternoon, we will go for horse riding for an hour to have experience and enjoy horse demonstration show afterwards. After dinner, you will spend joyful time by playing mongolian traditional game Shagai (ankle bone) or "Horse racing" with the family members.
---
Day 2. Travel to Mongol Els
After spending peaceful night in Mongolian ger, we will continue our adventure to a famous national park, Khugnu Khaan, a picturesque area with historical sites and beautiful sand dunes. The area also called Mongol Els has mystical ruins of temples well known among the history of Mongolian Religion. After taking a rest and get refreshed at the ger camp for a while, we will see beautiful scenery while hiking to the ruins of the Uvgun monastery in the late afternoon after visiting an active temple, Erdene Khamba. After hearty dinner, you can take a walk around the sand dunes and enjoy beautiful sun setting.
---
Day 3. Travel to Great Mongolian Empire
Before sun shines too much, we will go for camel riding for 1 hour along the sand hills in the morning. Having unforgettable experience of camel riding, we will head to the first capital city of the Great Mongol Empire, Kharkhorin.The city which was the most important place of all Mongolians in 13th century has now appearance of a town. However, the town has still a lot left to show how it was in old time. On the ruin of the city, the Erdenezuu monastery was established in 16th century which was the biggest buddist monastery during that time. We will visit the restored, active monastery Erdenezuu surrounded by 108 stupas and get to know history of our religion from some museums.
---
Day 4. Travel to Tsenkher Hot Spring
After spending a night in ancient city near famous Orkhon river, we will leave for the natural hot spa spring named Tsenkher. The nature will become more beautiful and the natural spring is located between the forested mountains at 1860 meters above the sea level. The tsenkher is a natural hot spring that flows from underground, through the seasons, at a temperature of 85 Celsius. The spring is very beneficial for health and there is a natural spa on-site which is ideal for the travel-tired. There are also plenty of walking opportunities in the surrounding forest. The area is home of colorful wild flowers and high green grasses.
.
---
Day 5. Hiking to Tuvkhun monastery and stay overnight in Orkhon valley
Today our journey will take us to a hidden monastery located on the top of a rocky mountain hill surrounded by deep forests elevated in 2300 meters in 1654 by Saint Zanabazar, was a great sculptor and one of the biggest representative of Buddhism in Mongolia. The creation work temple dedicated to religious study and art works became the foundation of today's Tuvkhun Monastery. After driving through beautiful valleys with colorful flowers for couple of hours, we will hike to the mystical temple enjoying real beauty of the nature. After freshly hike, we will drive for about 2 hours to the Orkhon valley with dead volcano.
---
Day 6. A day at Orkhon waterfall area
Today is our leisure day but with some interesting activities. After fresh breakfast, we will go for walking about 1 km to the Waterfall Orkhon which is one of the best sights in the Central Mongolia. About 250m downstream from the waterfall, we will climb down to the bottom of the gorge; it is 22m deep and dotted with pine. After taking a rest while listening to the waterfall stream. The valley is rich with herds especially yaks. So, we will have a great chance to visit yak herding family to see how our yak herding nomads live and help them with their daily jobs. In the evening, we will meet horsemen who will travel with us for next 3 days to the 8 lakes of Khuis to get advice related to our horse riding.
Day 7. Hiking to Khuis Lake
Hiking, yes hiking trip in the wild, untouched nature without car to the Eight Lakes Nature Reserve lies in the Khangai mountains, mongolia's second largest mountain range ago starts right from here today. The area is mountainous and so colorful. We will hike sometimes in the forest and most of the times on beautiful steppe. We will see 3 of the lakes and it will take about 12 miles in total to walk today. On the way, we rest for a while, have our picnic lunch prepared by our cook while having conversation with our horse guides. Stay overnight right next to a lake with beautiful view.
---
Day 8. Hiking to Shireet Lake
After hearty breakfast, we will continue our adventurous hiking to the biggest lake of the area, Shireet. Barely accessible to vehicles, the area of the Eight Lakes is being kept I pristine condition, allowing the few visitors who make effort to reach there to enjoy the beauty of the nature at its best. The lake, Shireet, is breathtaking, will take about 12-13 miles to reach as well. On the way, we will have break many times and take photos of the peaceful nature and wild flowers.
---
Day 9. Shireet to Ogii lake
After relaxing night spent at shore of the lake, we will meet head to another fresh water lake Ogii also known for its fish and birdlife. On the way, we will stop by a big rock named Shurange which if we throw a stone over the rock, our wish will come true. In the late afternoon, we will reach the bird lake. About 150 types of aquatic birds gather at Lake Ugii including scare birds a cape barren goose, a spoonbill, a Dalmatian pelican cranes and ducks. We can walk along the lake in the evening by hearing the relaxing noise of the birds.
---
Day 10. A leisure day at Ogii
Today we will relax without car driving at the lake. This is the right place where you can just rest and watch interesting birds sitting on a bank of the lake. In the morning, we will do hiking along the lake to enjoy around. Also the area offers us good photographic opportunities. Apart from doing basic activities such as hiking alongside the lake shore and watching birds, there are more things we can do optionally, like sailing on a boat, riding a horse alongside the lakeshore and visiting a nomadic family.
Day 11. Travel to Khustai National Park
After morning short walk, 1 hour of driving will take us to an ancient ruin of a Palace dated back to 8th century. It will be interesting to walk in the ruined wall while imagining how it was like in the ancient time. From there we will continue our driving to Khustai National Park which is a fine example of the wide river valleys separated by hilly terrain that characterize forest steppe. There are dozens of wild animals such as wolves, deer, and Przewalski horse which was reintroduced in 1990 with a cooperation of the Foundation Reserves for the Przewalski horse and the support of Dutch Government. There we will see the wild horses when they come down from the mountain to drink from water.
---
Day 12. Travel back to Ulaanbaatar city
After taking morning walk shortly in the national park, we will head back to Ulaanbaatar city. There will be shopping time after lunch in Ulaanbaatar and Farewell dinner. Stay overnight in the hotel.