Horseriding around 8 lakes (12 days)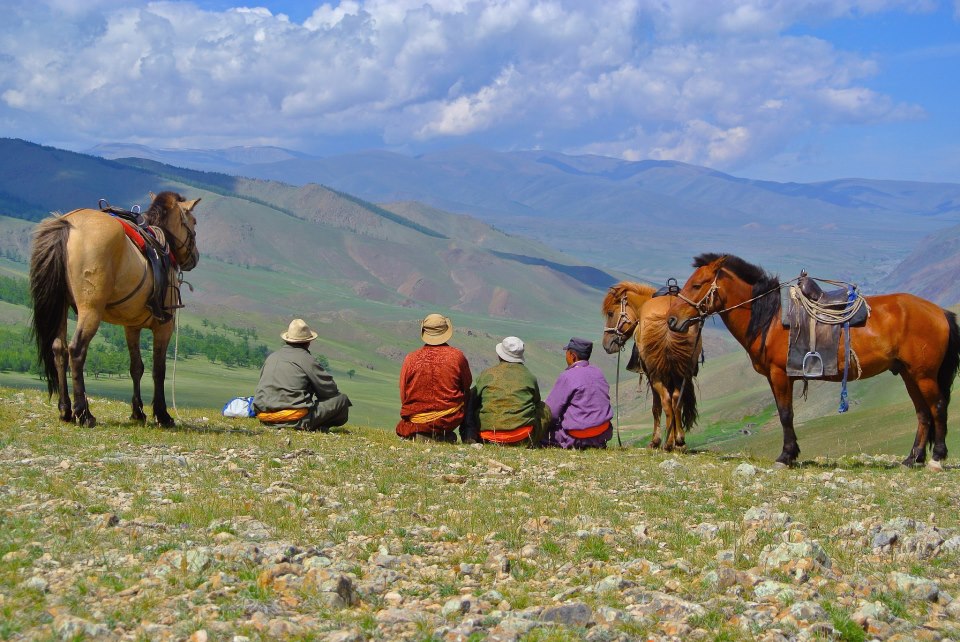 Have you ever dreamed to enjoy the nature on horseback for somedays to refresh your brain, relax mentally in the sound of birds? If so, this tour is right for you. You can unbend your mind seeing the water of lakes and improve your body health by lying in the hot spa, walking in the nature. Leave your travel worries with us, create the unforgettable memories of your life time in Mongolia.
Duration: 12 days/11 nights
Tour grade: Easy
Covering distance:
Group size:2-20
---
Travel Palaces: Ulaanbaatar - Khustai National Park- Mongol Els- Kharkhorin - Tsenkher hit spring - Orkhon Valley - Ogii lake - Ulaanbaatar Activities: Learning nomadic life, horseback riding, camel back riding, cultural sites.
---
ITINENARY:
Day 1. Ulaanbaatar
Arrival in Ulaanbaatar and meet our guide and driver. Transfer to hotel and check in. In the afternoon city tour in Ulaanbaatar city: visit Sukhbaatar Square, Chinggis Khaan's monument, Natural History Museum, and visit Zaisan Memorial for Panoramic view of Ulaanbaatar. Overnight at hotel.
---
Day 2. Travel to Khustai National Park Today we are leaving UB for western side. After about 80km of driving while enjoying your first big birds, horses and animals in Mongolia, we will get a National Park, Khustai. The 90,000 hectare Hustain Huruu National Park, set 60 miles southwest of Ulaanbaatar, is home to the world's only naturally surviving wild horse. Khustai has unique landscape that features mountain steppe and steppe, also there are sand dunes representing Gobi of Mongolia and River wetlands. In the evening we will enjoy seeing the wild horses in beautiful nature. Stay overnight in Ger camp. BLD.
---
Day 3. Travel to Kharhorin After breakfast, we will leave the National Park to the ancient, first capital city of the Great Mongol Empire dated back from 13rd century after nearly 280kms on mostly asphalt road. On the way, we will stop by sand dune, Mongol els to see Mongolian camels and enjoy the sand dunes. The Kharkhorin city is one of the most popular places of Mongolia not only because it was the ancient capital in 13rd century, but it has Erdenezuu Monastery which is one of Mongolian three most important monasteries. It was established in the 16th century and destroyed in the 20th century. We will visit the active monastery and 2 museums and see some historical remains left from the anceint city. Stay overnight in Ger camp.BLD.
---
Day 4. Travel to Tsenkher Hot Spring In the morning, we will leave the ancient city for natural hot spa spring Tsenkher. The nature will become more deeply forested and we will get where we left the city for. Tsenkher is a natural hot spring that flows from the ground, through the seasons, at a temperature of 85 Celsius. The spring is located in central Mongolia in a mountainous region, at 1,860 meters above the sea level. The spring is beneficial for health and there is a natural spa on-site which is ideal for the travel-tired. There are also plenty of walking opportunities in the surrounding forest. You will like the wild flowers and high green grasses. Stay overnight in Ger camp.BLD.
---
Day 5. Travel to Orkhon Valley We are sure that you have taken a good rest after relaxing in the hot spa. Today we will drive for km to famous Orkhon valley with Orkhon waterfall, which is one of the best sights in the Central Mongolia. About 250m downstream from the waterfall, you can climb down to the bottom of the gorge; it is 22m deep and dotted with pine trees. But from the bottom, you can relax hearing the sound of strong stream of the waterfall. The Orkhon river Valley has been protected since 2006 as a National Park. Today you will see yaks and so many of sheep, goat, cow and horse. Stay overnight in ger camp. BLD
---
Day 6. Start of the horse trekking to the 8 lakes area
In the morning, we will visit home of our horseman. He will give us instruction on how to ride horses for the next few days comfortably and safely. After we get prepared, we leave for exploring the breathtaking beautiful area of 8 lakes on the horse back with the help of the horsemen. Our luggage and food supply will be transported on the pack horses. We will travel about 15-20km a day on the horseback. These days, you will see the lakes and enjoy the beautiful nature in the fresh air with your horses. Stay overnight in tent. BLD.
---
Day 7-8 Horse trekking around 8 lakes area
These days, you will be exploring the more lakes of the 8 lakes while having adventure on the horseback. We are sure that you will have so much time to do meditation on your own way in the nature, relax mentally by travelling without any transport or network and whatever we have every day in the city. Stay overnights in tent. BLD.
---
Day 9. Trekking bak to the Ger camp In the afternoon, we will come back from the 3 days of horse riding adventure to the lakes. We are sure that you have relaxed mentally, but might have tired physically a bit. After saying good bye to your friends, horsemen and your horses and taking shower, you can relax or walk in the nature. In the evening, we will visit a nomadic family to see how they collect their yaks and milk them. It would also be interesting for us. Stay overnight in the Ger camp. BLD.
---
Day 10. Hiking to Tuvkhun Monastery - Drive to Ogii lake
After tasty breakfast, we will drive for about 50km to a mystical monastery located on the top of a deeply forested mountain. It is Tuvkhun monastery, which was built in 1654 by Saint Zanabazar who was a great sculptor and one of the biggest representative of Buddhism in Mongolia. From the bottom of the mountain, we will start our active hiking for about 1-2 hours on one way to the mystical monastery in the deep forest with full of wild flowers. After enjoying hiking in the wild flowers, we will have our lunch and leave for our next destination Ogii lake. Stay overnight in Ger camp. BLD.
---
Day 11. Travel to Ulaanbaatar The lake Ogii is one of the biggest lakes in Mongolia and located in Arkhangai province. It has 25.7 km squire area, average depth is 6.64m, in some sections 15.3 m and coastal length is 24.7 km. It is quite stunning place for birdwatching, fishing and swimming. There are 150 sorts of extremely rare and rare species birds of passage come to settle down on the "Ogii" lake. After breakfast, we have time to walk along the lake to enjoy the birds. Then we will start our journey back to Ulaanbaatar for 380 km on asphalt road. Farewell dinner and transfer to the hotel. Stay overnight in hotel. BLD.
---
Day 12. Departure day