Horseback trekking to Taiga (15 days)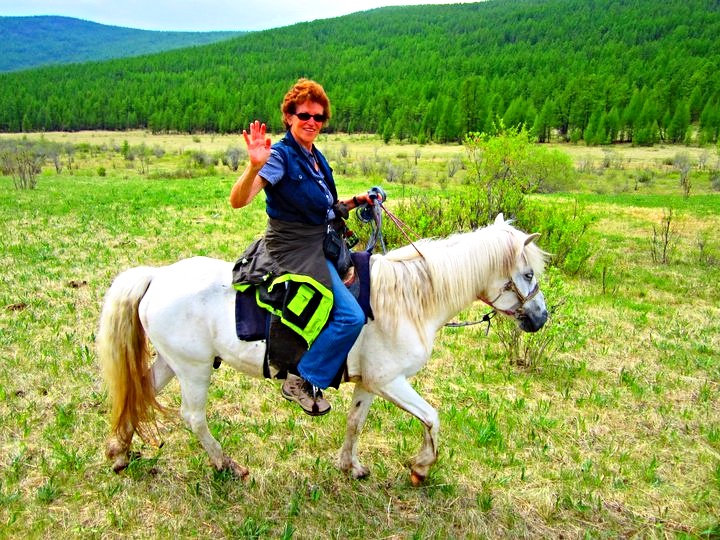 Do you want to ride horse in Mongolian wild nature? Do you also want your horse to take you to mystical place where the magical reindeers live with unique nomads? Yes this tour will make your wish come true. Your eyes will be happy with the colorful nature, your body will be energytic with the horse trekking and your mind will be refreshed with the peaceful Taiga.
Duration: 15 days/14 nights
Tour grade: Easy
Covering distance:
Group size: 2-20
---
Travel Palaces: Ulaanbaatar - Beltes river - Tsagaan Nuur village - West Taiga - Khuvsgul lake - Amarbayasgalant monastery- -Ulaanbaatar.
Activities: Learning nomadic life, horseback riding, hot spas, hiking on the mountain, great monasteries, ancient city, wild horse seeing, cultural sites.
---
ITINERARY:
Day 1. Ulaanbaatar
Arrival in Ulaanbaatar and meet our guide and driver. Transfer to hotel and check in. In the afternoon city tour in Ulaanbaatar city: visit Sukhbaatar Square, Chinggis Khaan's monument, Natural History Museum, and visit Zaisan Memorial for Panoramic view of Ulaanbaatar. Overnight at hotel.
---
Day 2 Take flight to Murun city-Beltes river
After picked up from the hotel, transferred to the airport, we will take domestic flight to Murun town of Khuvsgul province .We will meet our drivers there and drive shortly to see Uushigiin Uvur deer stones.This memorial contains the most clearly depicted deer stone in Mongolia. These deer stones were aligned from north to south in a single column. A deer, an arch, a shield, a horse, a knife, the moon, the sun and a mirror figured belt were engraved on the stones. Total of 109 deer figures as well as some human figures were carved on 14 stones. Then we will travel to Beltes river for about 80 km to enjoy the wild nature. Stay overnight in tented camping. BLD.
---
Day 3. Travel to Tsagaan Nuur village After having a tasty breakfast in the fresh air, we will drive for about 180 km to Tsagaan Nuur village where we will start our horse trekking to the mystical Taiga from. On the way, we will stop many time for taking photos of big birds, beautiful nature and visiting nomads. When we get the Tsagaan Nuur village, there will be time for you to take a walk around the big, beautiful white lake which surrounds the town. In the evening we will meet our local horsemen who will join us for next days and he will give us the necessary instructions on how to do the horse trekking to the West Taiga safely. Stay overnight in a guest house. BLD.
---
Day 4-5 Horse trekking to West Taiga In the morning, we will start our adventurous horse trekking to the west Taiga. Our luggage and food supply will be transported on the packing horses. To get there, we will take 2 days. However, the trail you're following twists through forests and sun-drenched meadows. But the entire time, your eyes stay glued to the ravishing- beautiful mountains which rise high against a deep azure sky. Taking the freshest breath while meditating on the horseback in the wild, virgin nature will make your 5 senses stronger. In the late afternoon, we will get to the reindeer herders, Tsaachid. After getting introduced, we will take a rest and enjoy the peaceful nature. Stay overnight in teepees/ Urts. BLD.
---
Day 6. A day in the Taiga We believe that you have had a great sleep last night in peaceful Taiga Today we will live like the reindeer herders. We will visit the reindeer herding families, have conversation with them to get to know of their lifestyle and share ours as well. In this way, you will listen to, see and feel real life of them. I can say for sure it will be very interesting to be there. You can live their life for these days maybe by helping them with what they do daily, playing with the kids. For the kids, it is always very interesting to meet people who come from far away and they really cheer up. We also can learn how to milk the reindeers and bake breath on stove without any electricity. For the night, if the shaman says yes, we can see the Shaman performance which is very extraordinary or seems like magic even for Mongolians. They start the performance when the sky gets full of stars in the middle of night which makes it more very special. Stay overnight in the teepee. BLD.
---
Day 7 Second amazing day in the Taiga Today we will explore the area around on the horseback. The area is full of trees and very amazing to see. So, we can go for some ours in the woods to make our eyes shining with the wild flowers and see wild animal if we are lucky. In the late afternoon, you can take rest or you can go with the Tsaachin people to collect their reindeers when they come back from grazing land. If you want, you can also meet the shaman privately to ask your fortunes. The local guide will help you with this. Stay overnight in the teepee. BLD.
---
Day 8-9 Trekking Back To Tsagaan Nuur Village After saying good bye to the reindeer herders, we will go back to the Tsagaan Nuur village on horseback. The route will be different and also will be breathtaking. It will take about 20 km for each day. While saving your great memories spend with the reindeer people as some of the highlights of your life, we will come back to Tsagaan Nuur village. When we come, back you will have time to walk or sit near the lake or do some shopping at local small shops. You will have a good rest after taking nice shower. Stay overnight in the tented camping on the way, in the guest house on the second night in Tsagaan Nuur village.
---
Day 10.Travel to Khuvsgul Lake In the morning, we will travel for about 280 km to blue pearl of Mongolia, Khuvsgul lake which is one of the top attractions of the Northern Mongolia is Khuvsgul Lake. The extraordinary lake lies within boundaries of the Khuvsgul National Park. The area of Khuvsgul Lake, raised well above sea level, is 2760ms. Its length is 136 km and width 36.5 km. This lake is revered to all Mongolians and is known as "Mother Sea". Many Mongolians are proud to call this lake as "Blue Pearl of Asia ". Untouched by industry and modern urban life, the Khuvsgul Lake's water is unbelievably clean. The scientists have announced that Lake Khuvsgul contains two percent of the world's fresh water resources. This is a place in Mongolia where one can get sense of total unspoiled wilderness. We can relax very well. Stay overnight in ger camp.BLD.
Day 11. A leisure day at the lake After a nice breakfast at shore of the freshest lake of Mongolia, we will hike to the mountain nearby to see panoramic view of the lake and surrounding area. It will be light exercise to make your body healthy and the view from the top will make your eyes happy. After lunch, we will drive shortly to visit yak herding family. It will also be interesting to see the nomadic family and you will understand what the difference is from the reindeer herders. In the evening, you will still have time to take walk along the lake. Stay overnight in Ger camp.BLD.
Day 12. Khuvsgul lake – Uran Togoo Mountain In the morning, we will leave the lake for our next destination. Driving on a new asphalt road, we will get Uran Togoo Mountain. About 60 km directly west of Bulgan city is the extinct volcano of Uran Uul and nearby Togoo Uul, now part of the 1600 hectare Uran-Togoo Tulga Uul Natural Reserve in the sum of Khutag-Ondor. Trails to the top of the relatively unimpressive volcano lead up from the west side, which also has some nice camping areas. The Uran-Togoo Tulga Uul Natural Monument is a national protected area in the Bulgan Province of Mongolia. This mountain ranks as 4th highest mountain in Bulgan province. We can climb up to the mountain top to see the dead volcano full of grasses and flowers on it. Stay overnight in Ger Camp. BLD.
---
Day 13.Uran Togoo mountain – Amarbayasgalant monastery Driving for km will bring us to one of Mongolian 3 biggest monasteries, Amarbayasgalant. It was built by Manchu Emperor between 1727-1736 with more than 40 temples in honor of Saint Zanabazar, the first Bogd and the great artist. The architectural construction of the monastery is amazing. The main style is Chinese while it combines little Tibetan and Mongolian architecture. During 1930s the monastery was destroyed by the communists. The monastery was being restored by UNESCO from 1975 until reopening in 1990. A couple of new monuments – golden Buddhist statue and a stupa –are situated on the hills behind the monastery. You could continue hiking up the mountains for even better views of the valley. Stay overnight in the Ger camp. BLD
---
DAY 14. Travel back to Ulaanbaatar After taking morning walk around the monastery, we will head back to Ulaanbaatar city. There will be shopping time after lunch in Ulaanbaatar and Farewell dinner. Stay overnight in the hotel. BLD.
---