Cultural Tours
,
Best tours
,
Magic Taiga (14 days)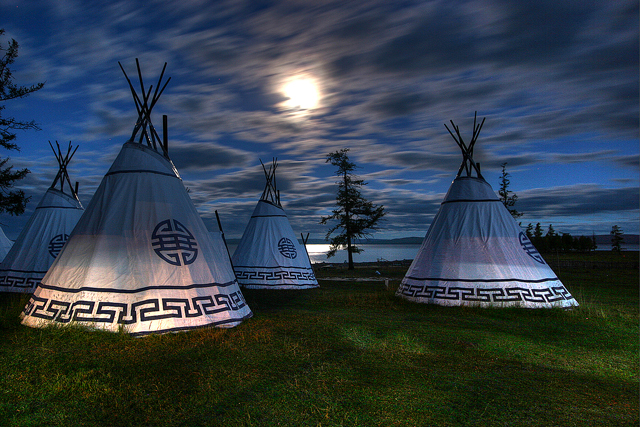 Have you ever thought to live without any network, telephone, car, television and even bicycle. Wouldn't it make our brain so relaxed, health much better? If you agree, this tour will bring you to such a magic place Taiga located in the far north part of Mongolia. We all always have to work for living, but why can't we take some days break from our responsibility, just walk in the nature, play on fresh green grass under eternal blue sky J Just let's leave every problem behind, enjoy only nature with truly nomadic people. Let's live, do like Mongolians, especially with Reindeer people for some days. You will never regret of choosing this trip. Those days will always be breathtaking memories to enjoy remembering when you are back to city, normal life. Leave your travel worries with us and enjoy your time
Duration: 14 days/13 nights
Tour grade: Easy
Covering distance:
Group size:2-20
---
Travel Palaces: Ulaanbaatar - Amarbayasgalant monastery - Ikh Uul town - Sumber brigade - Tsagaan Nuur village - East Taiga -Ujig River - Khuvsgul Lake - Ulaanbaatar Activities: Learning nomadic life, horseback riding, camel back riding, cultural sites.
---
ITINENARY:
Day 1. Ulaanbaatar
Arrival in Ulaanbaatar and meet our guide and driver. Transfer to hotel and check in. In the afternoon city tour in Ulaanbaatar city: visit Sukhbaatar Square, Chinggis Khaan's monument, Natural History Museum, and visit Zaisan Memorial for Panoramic view of Ulaanbaatar. Overnight at hotel.
Day 2. Travel to Amarbayasgalant
Today we will start our tour with full of adventure. Driving to North for 380 km will bring us to one of Mongolian 3 biggest monasteries, Amarbayasgalant. It was built by Manchu Emperor between 1727-1736 with more than 40 temples in honor of Saint Zanabazar, the first Bogd and the great artist. The architectural construction of the monastery is amazing. During 1930s the monastery was destroyed by the communists. The monastery was being restored by UNESCO from 1975 until reopening in 1990. A couple of new monuments – golden Buddhist statue and a stupa –are situated on the hills behind the monastery. Stay overnight in the Ger camp. BLD
---
Day 3. Travel to Ikh Uul town
After the night spent in such a peaceful place, we will continually head to the northern part. The road will still be asphalt which will be easier and quicker. The nature is full of green and trees will be getting higher when we get close to the north more. On the way, we can enjoy the nature which is becoming more beautiful day by day J. Stay overnight in the guest house. BLD
---
Day 4. Travel to Sumber Brigade We are still on the road to meet Reindeer people. So, we now have only 2 nights before getting there. For today, on the way, we will visit a city, Murun which is capital of Khuvsgul province. We will have short visit to local black market which is famous with its fish, dairy products and local candies. After exploring the city shortly, we will continually drive on dusty interesting road to Sumber brigad for 90km. On the way there is canyon Yamaat which is nice to take a walk. Stay overnight in tent.BLD.
---
Day 5. Travel to Tsagaan Nuur town Our travel today continues to Tsagaan Nuur soum (local village) for about 200 km. When we get there, we will visit Tsaachin (reindeer people) information center to have detailed information and prepare for our trekking for coming days to the Reindeer People in Zuun Taiga. Have a good sleep today for tomorrow. Stay overnight in guest house. BLD
---
Day 6. Hiking to East Taiga After fresh, tasty breakfast, we will drive to Shishged River for a few km, cross the river. Then we will meet the local mountain guide horsemen and pack horses. Our entire luggage and food supply will be transported on the horses. We will be walking to East Taiga for some hours, take water resistant boots if you have because the road is usually be muddy. Anyway, walking in the real virgin nature will take us to East Taiga where the reindeer herders live with their family and beautiful reindeers. Introducing with the people and the surrounding area will be our activity for the afternoon. Stay overnight in teepees/urts.BLD
---
Day 7-8 Exploring East Taiga
Exploring life style of Reindeer herders, live in the nature, live like Mongolians J.On these 2 days, we can have deeply knowledge of how Tsaachin herders live, what the culture is while visiting families around. If you want, you can help them to herd the Reindeers and do daily job with them. In this way, you can have real feeling of how they live. Taiga seems like a mystical place for many of us because of its strong Shamans. It is also great and unforgettable to see Shamanic ritual ceremony in the middle of the night. Stay overnights in the teepees. BLD.
---
Day 9. Travel back to Tsagaan Nuur lake After saying good bye to our new friends, we will start our trekking back to the village, Tsagaan Nuur. Our drivers and vehicles will be waiting for us in the Khogorgo valley to transfer us to our guest house for 25 km. In the late afternoon, you can walk along the beautiful White lake which surrounds the village. Stay overnight in the guest house.BLD.
---
Day 11. Travel to Ujig valley With full of great memory of truly nomadic reindeer herders, we are leaving the Taiga area today. We will drive for 5-6 hours to Ujig river valley about 160km. In the evening, we will be camping in the beautiful nature. Isn't it great to sing whatever song you like loudly in the nature right beside campfire with a glass of wine. Stay overnight in the tent. BLD.
---
Day 12. Travel to Khuvsgul Lake After having a great breakfast in the nature, we will drive for 4-5 hours to the Blue Pearl of Mongolia. Yes, this is Khuvsgul lake which is one of the top attractions of the Northern Mongolia is Khuvsgul Lake. The extraordinary lake lies within boundaries of the Khuvsgul National Park. The area of Khuvsgul Lake, raised well above sea level, is 2760ms. Its length is 136 km and width 36.5 km. This lake is revered to all Mongolians and is known as "Mother Sea". Many Mongolians are proud to call this lake as "Blue Pearl of Asia ". Untouched by industry and modern urban life, the Khuvsgul Lake's water is unbelievably clean. The scientists have announced that Lake Khuvsgul contains two percent of the world's fresh water resources. This is a place in Mongolia where one can get sense of total unspoiled wilderness. We can relax very well. Stay overnight in ger camp.BLD.
---
Day 13. A hiking day at the lake
The area is also paradise for outdoor travelers and there are plenty of room for activities like hiking, birding, fishing, horseback travel and kayaking. Today we will go for hiking. Also you can climb up to the mountains to have a panoramic view over the lake. The area is rich with medical herbs and beautiful wild flowers. Untouched by industry and modern urban life, the Khuvsgul Lake's water is unbelievably clean. This is a place in Mongolia where one can get sense of total unspoiled wilderness. Optional horse riding is possible here. Lying on the flat stones under the sun shining around the lake is so much relaxing. Stay overnight in Ger camp. BLD.
---
Day 14. Take fligh to Ulaanbaatar After lunch, we will drive back to Murun city to have our flight to Ulaanbaatar. Shopping and farewell dinner. BLD.
---
---