Discovery Tours
,
Top tours
,
Mirage Gobi (9 days)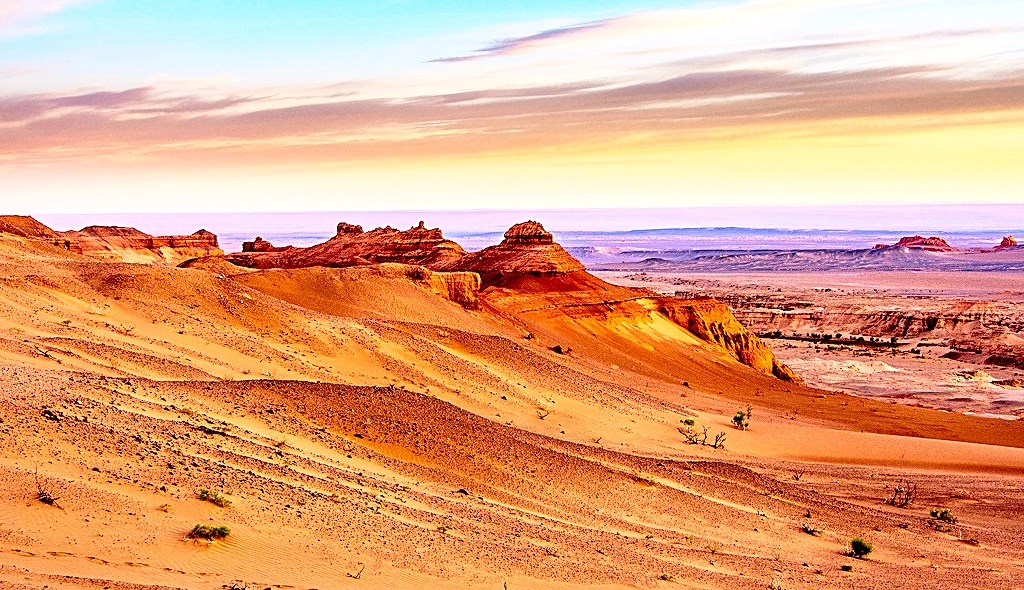 This tour itinerary is an idol for everyone who wants to discover Mongolian Gobi Desert, its beauties. Driving through the magical Gobi Desert with mystical mirage will lead you to unforgettable moments of your lifetime. Visiting local nomadic families, camel riding along sand dunes and seeing historic sites will be wonderful, adventurous experience of your life. On this tour, you will see all of the Gobi Highlights. Leave your travel worries with us and enjoy your time.
Duration: 9 days/8 nights
Tour grade: Easy
Covering distance:
Group size: 2-20
Highlights: Nomadic family visit, Camel riding, Hiking in Yol valley, Sand dune, Fantastic rock formation, Flaming Cliff and White Stupa and Great steppe of the Gobi
ITINENARY:
Day 1. Ulaanbaatar Arrival in Ulaanbaatar and meet our guide and driver. Transfer to hotel and check in. In the afternoon city tour in Ulaanbaatar city: visit Sukhbaatar Square, Chinggis Khaan's monument, Natural History Museum, and visit Zaisan Memorial for Panoramic view of Ulaanbaatar. Overnight at hotel.
Day 2. Drive to Baga Gazriin Chuluu Today we will start our journey to the amazing Gobi Desert with mystical mirage. Drive for 240km mostly on asphalt road to Bagagazriin chuluu ,unique granite rock formations, in the middle of the dusty plains sheltered Zanabazar, the first reincarnated Bogd, during the conflicts between the Khalkh and Oirad Mongols. Later in 19th century, it was home to two revered monks who left rock drawings in the area. Naturally, there is a legend that Chinggis Khaan grazed his horses here. In this rocky area, we will take a walk and relax mentally. Stay overnight in ger camp. BLD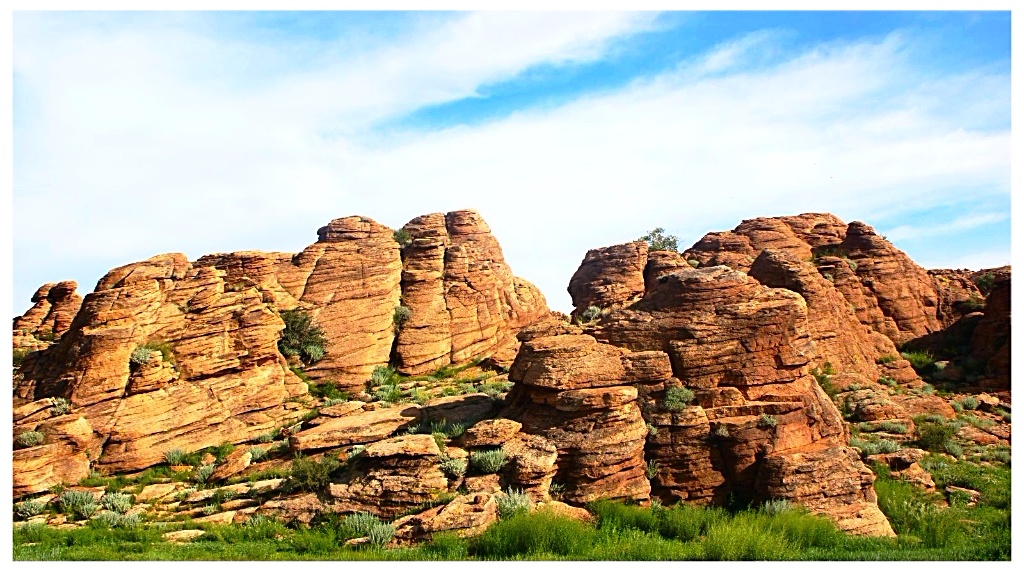 Day 3. Bayanzag/Flaming Cliff After good sleep in the air, today we will head to Flaming Cliff which was the motherland of the Dinosours once in old times. We Mongolians call this place as Bayanzag which means 'rich in saxaul shrubsis more commonly known as 'Flaming Cliffs', a name given by the palaeontologist Roy Chapman Andrews, famous American explorer in the 1920s, first excavated in 1922, it is renowned worldwide for the number of dinosaur bones and eggs found in area,It is a classic desert of rock, red sands, scrub, sun and awesome emptiness. Stay overnight in ger camp.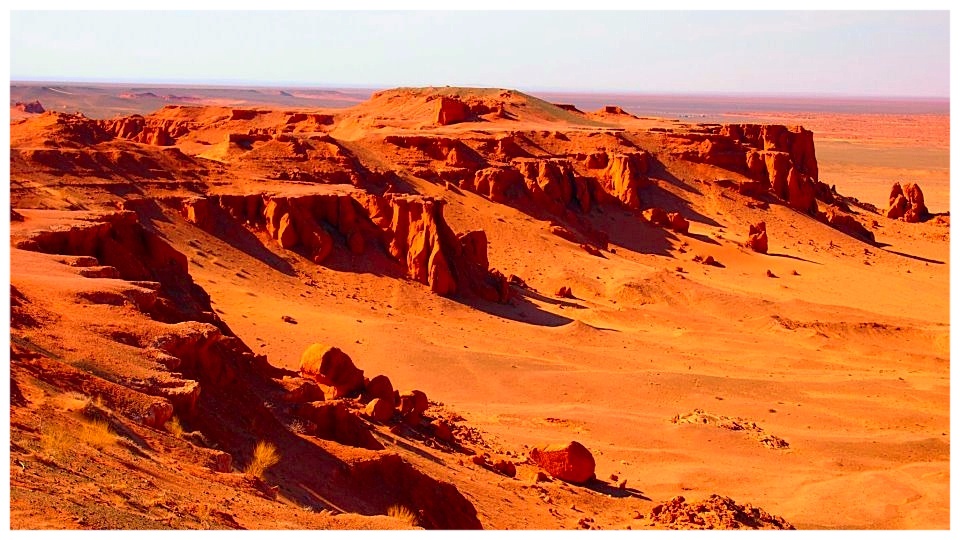 Day 4. Travel to Khongor Sand Dune In the morning, we will continue for our adventure with driving for 150 km to the next destination, Khongor Sand Dunes or Singing Dunes which is one of the largest and most spectacular sand dunes in Mongolia, which reaches a height of 300 meter, 12 km wide and 100 km long.Getting to the top (45 minutes to one hour) is exhausting; every step forward is followed by a significant backslide, but the views of the desert from the sandy summit are wonderful. This dramatic scenery features many colors of nature as white sand dune, the light green grass, red-blue mountains and the eternal blue sky. Stay overnight in ger camp. BLD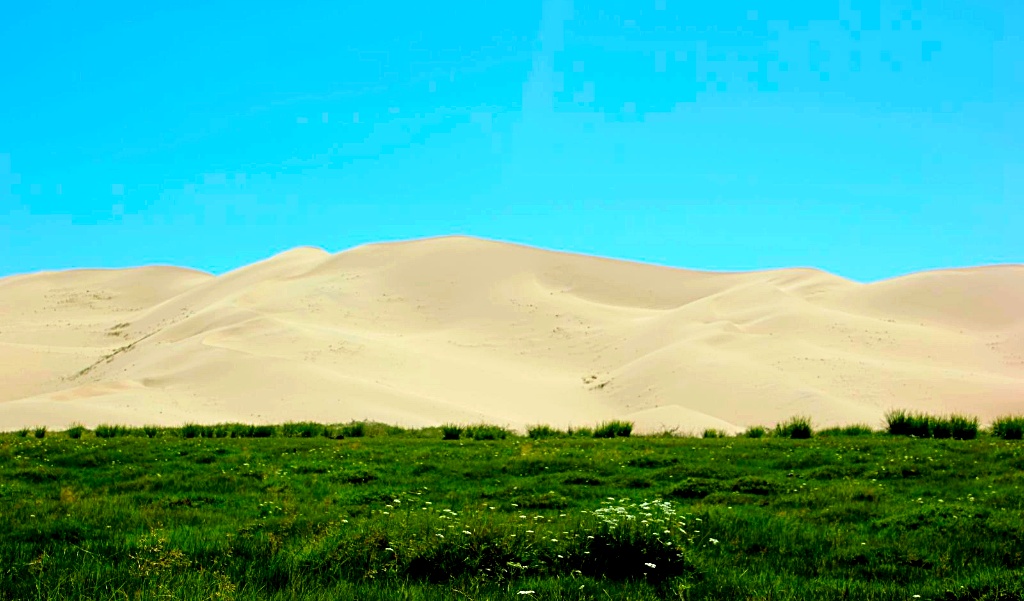 Day 5. A leisure day at the sand dune After having a tasty breakfast we will drive shortly to a camel herding nomadic family. After getting introduced and offered with the traditional tea with milk, dairy products, we will have enough time to have conversation with the family members to know camel herding families' life style and how they are still keeping the nomadic lifestyle in the modern days. We will also have opportunity to learn how to milk the camel and produce the dairy products. After having lunch, we will go for camel riding for 1-2 hours to the sand dune. It will be interesting for you to see the Gobi from the camel back. Stay overnight in Ger campl. BLD.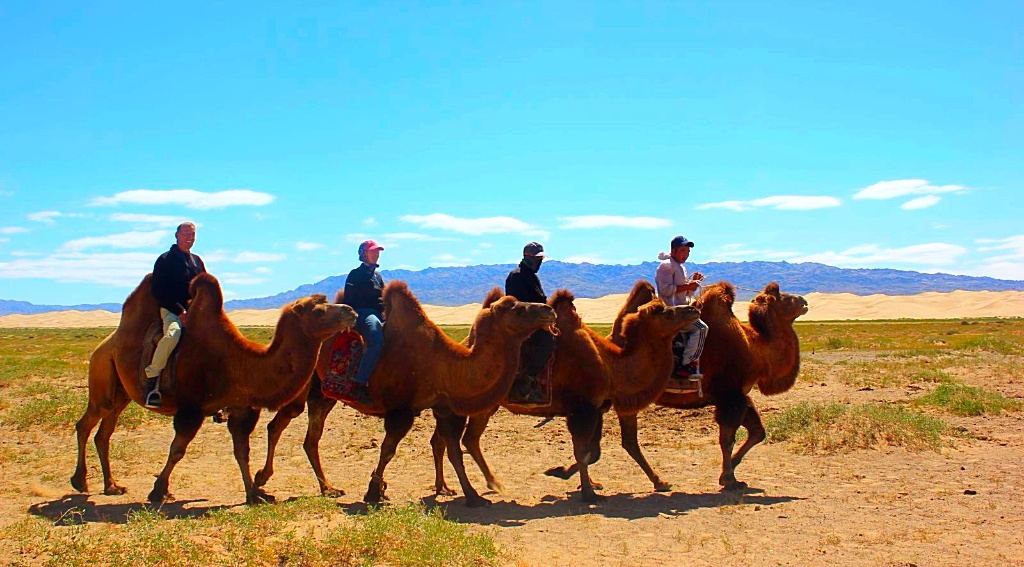 Day 6. Travel to Yol Valley After the day of enjoying the massive sand dunes, today we will get the Yol Valley (Eagle valley) was originally established to conserve the birdlife in the region but now is more famous for its dramatic rocky cliffs and narrow, heavily shaded canyons that allow sheets of blue-veined ice to survive well into the summer. There is great hiking opportunity from the parking areas to the glacier following the stream for 3km leads to the ice-filled gorge and one or two local souvenir salesmen. In winter time glacier is up to 10m high and remains frozen usually until late of July. You might see wild ibex or argali sheep up in the mountain if you hike early in the morning. Stay overnight in ger camp. BLD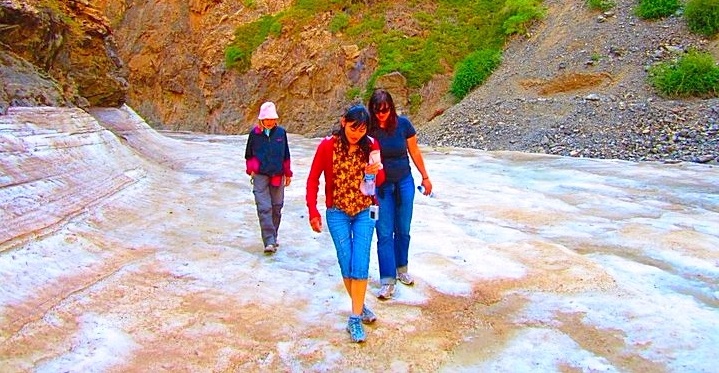 Day 7. Travel to White Stupa In this fresh morning, we will leave South Gobi back for the Middle Gobi to the amazing White Cliff. The name Tsagaan Suvarga (White Stupa) is given by local people to the impressive and legendary cliff which is eroded by natural phenomenon. Having 10 million years history, the cliff indicates different times by its colored layers. Tsagaan Suvarga (White Stupa) is interesting to see from the sheer slope, facing east, which from a distance seems to be the ruins of the ancient city. Stay overnight in ger camp. BLD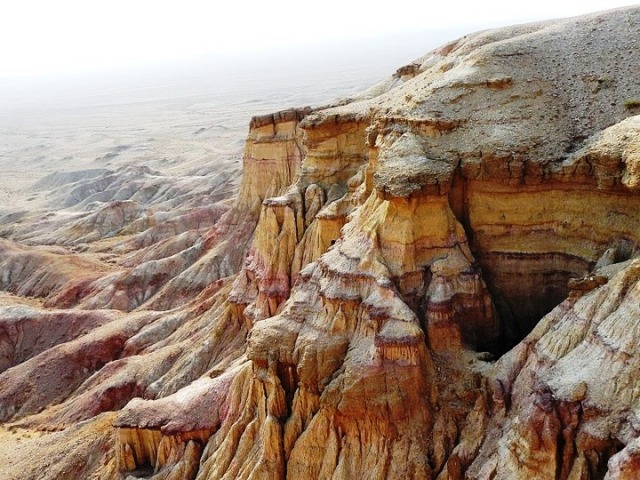 Day 8. Travel back to Ulaanbaatar After breakfast, we will still have some time to walk or enjoy the nature around. Then we will travel to Ulaanbaatar city for 100 kms drive mostly by paved road. Arrive in Ulaanbaatar and transfer to your hotel. Farewell dinner. Stay overnight in hotel. BLD.
Day 9. Departure Departure from Mongolia.
---